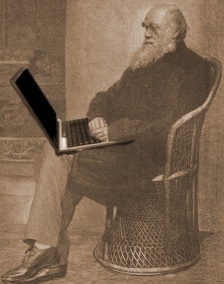 Get your Charles Darwin fix here. "This site currently contains more than 50,000 searchable text pages and 40,000 images of both publications and handwritten manuscripts. There is also the most comprehensive Darwin bibliography ever published and the largest manuscript catalogue ever assembled. More than 150 ancillary texts are also included, ranging from secondary reference works to contemporary reviews, obituaries, published descriptions of Darwin's Beagle specimens and important related works for understanding Darwin's context."

I browsed around the site a bit and found this 1987 article entitled Darwin's insects: Charles Darwin's entomological notes, with an introduction and comments by Kenneth G. V. Smith.

In it, I found this letter from Darwin to J.S. Henslow written almost 170 years ago to the day:


. . . I have scarcely met anyone who seems to wish to possess any of my specimens. . . . I see it is quite unreasonable to hope for a minute, that any man will undertake the examination of a whole order.—It is clear the collectors so much outnumber the real naturalists, that the latter have no time to spare.—I do not even find that the collections care for receiving the unnamed specimens.—The Zoological Museum [of the Zoological Society] is nearly full & upward of a thousand specimens remain unmounted. I daresay the British Museum would receive them but I cannot feel, from all that I hear, any great respect even for the present state of that establishment.
I'm not sure if it is gratifying or depressing that so little has changed since then.
The complete Works of Charles Darwin Online:
Link
The Correspondence of Charles Darwin:
Link
The Darwin Digital Library of Evolution:
Link